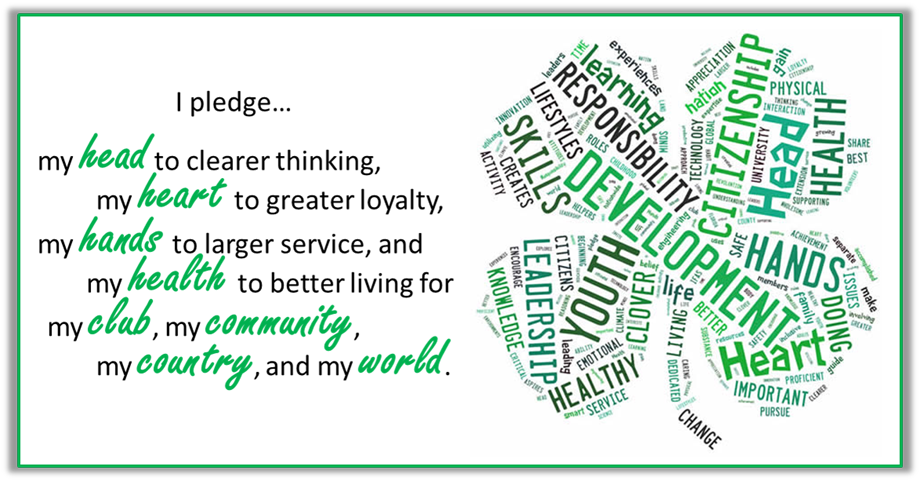 Sponsors:
Mrs. Thayer 5th grade
Mrs. Ward 6th grade
4-H Foundation Extension Agent
Arielle Hooks
4-H Way
4-H empowers young people with the skills to lead for a lifetime. It's a research-based experience that includes a mentor, a hands-on project, and a meaningful leadership opportunity.
4-H Community
4-H reaches almost six million young people through our community of 100 public universities. Programs are delivered by 3,500 4-H professionals and 500,000 volunteers. Young people experience 4-H through school and community clubs, in-school and after-school programs and 4-H camps.
4-H Programming
Based on their interests and guided by adult mentors, youth develop their own pathway in 4-H. They select from a broad menu of local 4-H programs. There are hands-on, learn-by-doing, opportunities for everyone.
We Believe In:
all young people's potential;

developing young people who are empowered, confident, hard-working, determined, responsible and compassionate—seeing a world beyond themselves so that they have the life-long skills to succeed in college and career,

ensuring access and equity for all,

the power of America's leading public universities,

the practice of positive youth development (PYD)* by creating positive learning experiences,

caring and trusted adult mentors who cultivate positive relationships with youth,

creating safe, diverse and inclusive environments, and

meeting young people wherever they are.
5th grade
October 19
November 16
December 7
January 18
February 22
March 22
May TBD
6th grade
October 18
November 15
December 7
January 17
February 21
March 21
May TBD
Mrs. Thayer's Homeroom
President: John Duncan
Vice President: Ansley Woods
Secretary: Annassia Puckett
Mrs. Ballard's Homeroom
President: McKenzie Floyd
Vice President: William Timbers
Secretary: Jaden Pearce
Mr.Tice's Homeroom
President: Tyson Webb
Vice President: Brianna Rascoe
Secretary: Abbigail Kaperak
Ms. Dippold's Homeroom
President: Matthew Johnson
Vice President: Emma Dykes
Secretary: Abby Kate Snellgrove
Mr. Davis' Homeroom
President: Sarah Hodges
Vice President: JaDavion Mullins
Secretary: Riley McDaniel
Mr. Morgan's Homeroom
President: Carson Macon
Vice President: Kazariyah Johnson
Secretary: Holdon Chandler
Mrs. Ward's Homeroom
President: Nylan Flowers
Vice President: Judd Hagler
Secretary: Jaelynn Jordan